Zaterdag 28 januari VOGELFESTIJN op De Naturij!
Het Vogelfestijn is van 10.30 tot 16.00 uur.
Een dag die geheel in het teken van vogels staat. Met o.a. nestkastjes in elkaar zetten, vogelsnacks maken en een vogelspeurtocht ( en nog meer!). Ook hebben we deze dag een ROOFVOGELSHOW!
De roofvogelshows starten om 11.00 uur en om 13.00 uur en duren een klein uurtje. Vanwege de veiligheid zijn honden niet toegestaan bij de roofvogelshows.
Aanschuiven bij de activiteiten (nestkastjes maken, tekenen, vogelsnacks maken, etc.) kan tot 15.30/15.45 uur. Voor de activiteiten zijn geen bijkomende kosten.
Zet deze dag alvast in je agenda want dit Vogelfestijn wil je echt niet missen!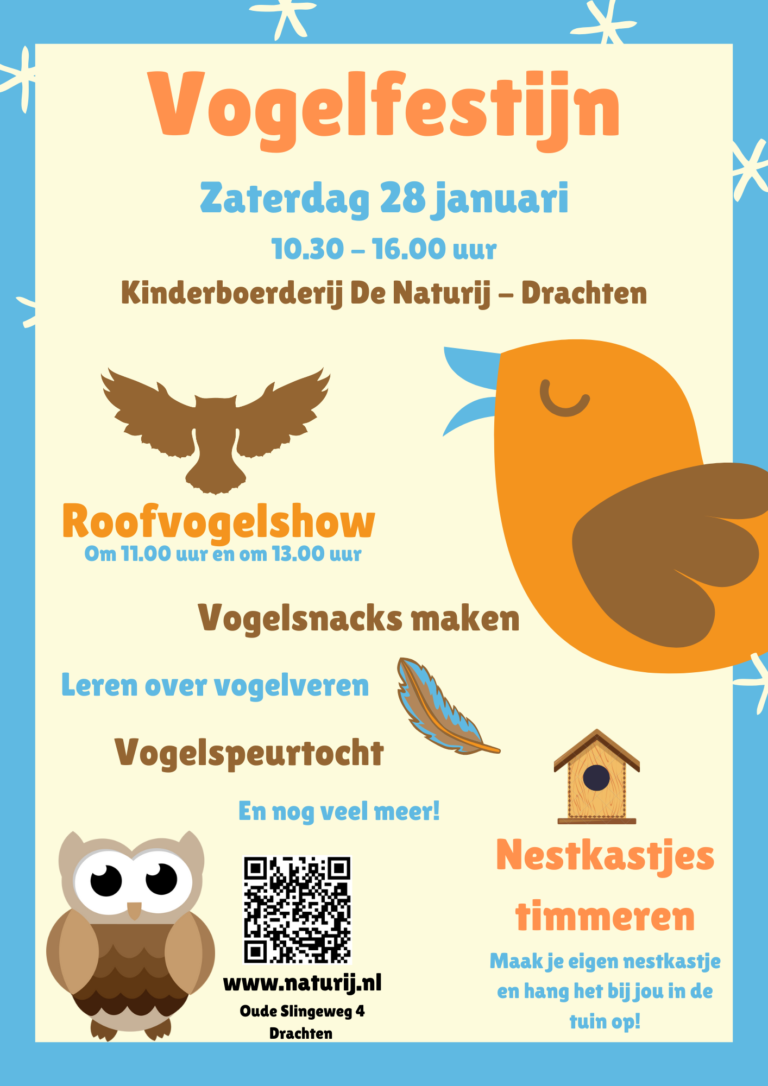 De Naturij kan foto's of video's (laten) maken van het park en haar bezoekers. Deze opnames kunnen wij gebruiken voor publicaties en promotionele doeleinden. Ook pers kan aanwezig zijn, met name tijdens evenementen. Wil je niet gefotografeerd of gefilmd worden? Mijd dan het gebied waar de opnames plaatsvinden.
Foto's worden achteraf niet verwijderd van Facebook e.d.